Negima!? is a weird kind of comedy spinoff series to Negima, which is a pretty fantastic ecchi battle manga that has gotten a bunch of not so fantastic anime adaptions. This one didn't even try to adapt the manga, instead going off on it's own route after a couple episodes and is mainly about locating this magical artifact called the Star Crystal when the main plot is actually happening. The main character Negi is a young mage who is also the teacher for a class of 31 girls, all older than him and through them finding out about magical shenanigans he ends up making contracts with them called pactios, giving them magical powers and sometimes cool outfit shifts. The pactios are also made via kissing.
Flash forward to near the end of the series and it's explained what is up with the Star Crystal being at the school and causing problems. Anya, Negi's highly competitive childhood friend was jealous of his success and broke into a place to steal and try to master the Star Crystal. Negi's dad, one of the most powerful mages, couldn't do it so if she could then it would prove her superiority. Naturally this goes poorly and she gets instantly swallowed and corrupted by the Crystal, resulting in the events of the series.
Eventually she attacks by possessing the body of Evangeline, a super old vampire loli and former villain, complete with a pretty nice new look for her new body. The main heroine of the series and Negi's first partner Asuna moves in to defend Negi so the jealous Anya decides to take her too. What follows next is Anya kissing Asuna and forcing a new pactio on her, brainwashing her and corrupting her into Anya's dark knight. The makeover Asuna gets is really nice and she has a great villainous, smug look on her face as she moves in to attack her former friend.
And also for those keeping track on how relevant this is, a girl gets corrupted, possesses another girl, and then uses that girl to brainwash and corrupt another girl via sweet yuri action.
Villainess: Anya/The Star Crystal
Victims: Evangeline, Asuna
Method: Possession, Kissing
Time:
https://www.youtube.com/watch?v=cCI4Z70fe-c
2:00-2:37 (Anya gets swallowed by the Star Crystal's darkness)
4: 25-4:55 (Evangeline gets possessed)
6:55-8:00 (Asuna's corruption and makeover.)
Evangeline Before/After
Asuna Before/After
And of course the kiss
I completely forgot about this one! Great job picking it up dood =) That is one of my favorite series because I enjoyed Negima, and putting Shaft's artistic craziness in animation made it pretty amazing. It is pretty amazing for what you pointed out, Eva's new outfit with the blood-like stains on her face are amazing. Asuna's corruption is really something, all that dark power running through her to give her such a polar opposite appearance is quite something.
Funimation.com should have better quailty, hopefully, though you do need at least a free account. It's episode 23.
http://www.funimation.com/shows/negima-magister-negi-magi/videos/episodes
Got this on thin case DVD. Yeah, it's a pretty cool and sexy sequence, and the series itself is actually really good. Plus, there are a few gag references to Pani Poni Dash, which is another series you guys should watch.




Posts

: 796


Join date

: 2012-04-27


Age

: 32


Location

: California, United States



Nice to see some Negima fans here, I adore the series but I rarely see it talked about. This anime was actually my first exposure to it, I saw one of the OVAs then watched the series and finally started the manga. It might just be nostalgia, but I definitely thing that this one is the best anime Negima has gotten. Rather than poorly adapt the manga is competently does it's own thing and it's pretty enjoyable. Great dub too. A shame we never got a full adaption of any of the later parts of the manga though.
There are some ovas using the Negima!? some of the later stuff, but it's mostly just comic stuff, which is still great
http://danbooru.donmai.us/posts/320064?tags=mahou_sensei_negima%21+animated
But yeah, I got into Negima! long before it was released because I had just finished reading the Love Hina manga(which I love) and was eagerly looking forward to Ken Akamatsu's newest work =) Regretfully I never finished the manga because of my shifting interest(though I own 1-35), but it was still awesome. There's even a sequel to it in the form of "Uq Holder!" which follows a new immortal hero that is trained by Evangeline(in her adult form using the age pills, unlike the glamoured form she used when first facing Negi). Even has some recurring characters
http://danbooru.donmai.us/posts/2117529?tags=uq_holder%21
Speaking of which, it'd probably be a good idea to put Evangeline and her athletic maids up and explain that sighting, but I fear finding pages for it will be difficult... and I feel the colored version of this artwork doesn't do it justice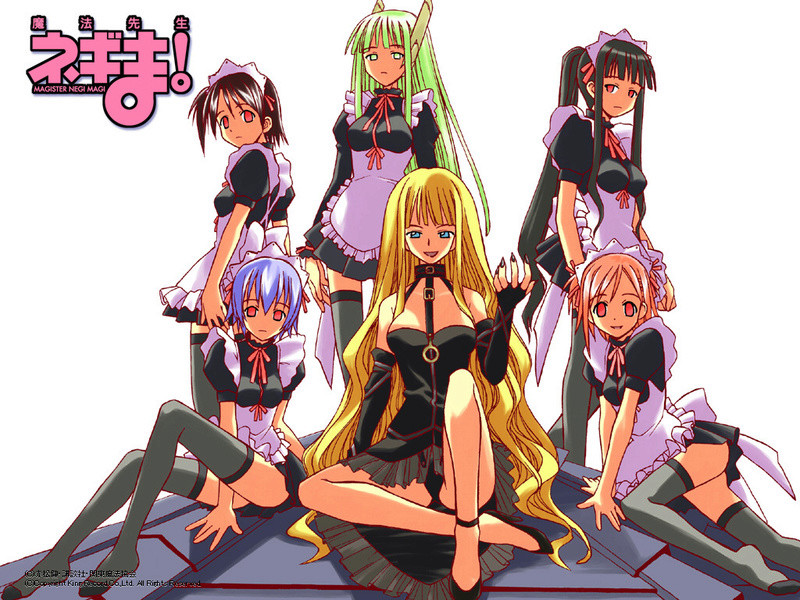 I could handle it, but it might take a bit, need to track down Maki's bite, the bath scene, the above scene, and the mind controlled maids attacking(though that doesn't last two long).
I'm a big fan of Akamatsu's stuff as well, having first been introduced through Love Hina (even got all of A.I. Love You, which I believe was the series that got him started). As soon as I saw the Negima! manga on sale with his name on the front of it, I kept up with the series. Sadly, around volume 24 of the Western localization, I started getting pressed for cash, and couldn't keep up with the series. Still don't know what happens through volumes 28 to the end, though I'm aware of how rushed the ending was.
And yeah, heard about UQ Holder as well. I need to read that. Especially since... well, I think the spoiler was shown on the forums already, so I'll let you guys find it.




Posts

: 796


Join date

: 2012-04-27


Age

: 32


Location

: California, United States



Yeah, I know about all the OVAs (That beach one being my first exposure to Negima). The ones that cover the Magical World arc even have some pretty cool stuff in them, but they are sooo rushed. And then the Final movie is among the worst animated movies I've ever seen, it's so bad and that is really sad. All they had to do was animate the Rakan fight, and instead it was this awful rushed ending that made no sense.

When I was working on this one I was thinking about doing that Eva one too, and a sighting for Needless I'm surprised isn't already here. Also Alex, if you haven't seen past 28 you missed a really great fight and a cool final battle in general. The rushed ending stuff luckily didn't start until after the Magical World arc ended so it gets a pretty decent ending. I'm super glad UQ Holder exists because it is really good.
Huh, you're right about the Needless thing... I do remember expressing my love for Kurumi at some point because of her method and her 4 braids hairstyle... Was that before the forum? It might of been on UponHerLips...
---
Permissions in this forum:
You
cannot
reply to topics in this forum