Hello everyone,
I wanted to tell you about a game I really enjoyed the last few months.
Especially now that there will be a new release of the game this month.
The game is called,光翼戦姫エクスティア, something like Light Wings Warrior Princes ExS-TIA.
The game is about a girl called Marina and her friend/boyfriend Souma.
They just walked in a park when they get attacked by strange people from another Dimension/World.
At that time, Marina recieve the ability to transform into ExS-TIA by one of their teacthers from
school. Now with the power to fight the enemys she can fight the guys back.
In the game you have to fight against "monster" like enemys that are mostly "males".
If you lose to one of them you will get abused by them untill you are saved.
But if you loose repeatedly, they will turn you into their slave, lover...
I really like the "older" titles of Alice Soft where you could lose to the enemy to
get abused, but always found it a shame that you couldn't get enslaved
by the boss after repeated losing.
I know that this site is for female/female parts, so I want to mention only the
encounters in the game that have this specific part.
There are other good scenes though.
The first encounter is not with a plant like monster.
The plant will use it's spores to make you more willing while molesting you
with its tentacles and leaves.
The real "good" part begins if you lose too often.
Then she will be absorbed by the plant and turned into a plant monster herself.
She will then use her "new" powers to have some fun with the girls of the city.
Absorbing their powers.
The second encounter is with Azarin.
The daughter of the emperor of the invading forces.
She will try to defeat ExS-TIA in one of two ways.
The first one is not of interest for this site, turning her into a semen tank of the school boys.
The second one how ever is.
There she will abuse ExS-TIA herself.
Unfortunately, she uses her magic to create a penis like thing to rape her.
Throught the magic, ExS-TIA will also change,
into a "cat/fox" like girl, that is totally submissive to her.
The last scene of this game is a bit "different" than the last ones.
It is "female" dominated, but there is no enslavement or charming involved.
I will mention it still, since there is corruption from another part involved.
This time You will need to lose to a lot of the enemies without being
enslaved by any. Through the humilation Marina recieves because of this,
she will start to seek out the rapes and turn into a "monster" herself.
She then looks like a succubus from many games/animes.
Then of course she will seek out males/females to harvest energies.
There is also a part where she rapes Azarin.
Again, later on in this scene she will use her "magic" penis to
rape her for real. Really difficult to find games where it doesn't
end this way sooner or later...
There were also three "DLC" like releases of the game, from which one could also
be interesting for you guys.
It is about some "suit"/plant kinda monster.
The first time she rapes her, this monster strengthens the memories of the rape
so much, that Marina will masturbate to them.
The next time she faces her because of this, ExS-TIA is even weaker then the
first time she fought against this "Suit" monster.
From the second rape on, she will again dream of being
ravaged again, and will start to accept being the slave of this suit girl.
Her own suit starts to change into one similiar to the "suit" girl one.
She will then search out guys, to rape and take their life essence, just
to give this to her new misstress. Of course her normal suit also
changes to look more like that of her mistress.
Now for the future part.
At the end of this month, 29th, there will be a new release of this game.
ExS-TIA 2.
There we will play another heroine that will be able to transform and will
probably have the same hardship as the other.
I found two possible characters of interest from the internet site.
The first one is ヴェステギル,Vestgil kinda.
Apparently she likes women clothes, especially cute women clothes
and foremost, cute women wearing cute clothes.
There is no CG for her yet on the site, so I don't know how she
will have fun with ExS-TIA, but I hope she uses her clothes to convert
her into her harem.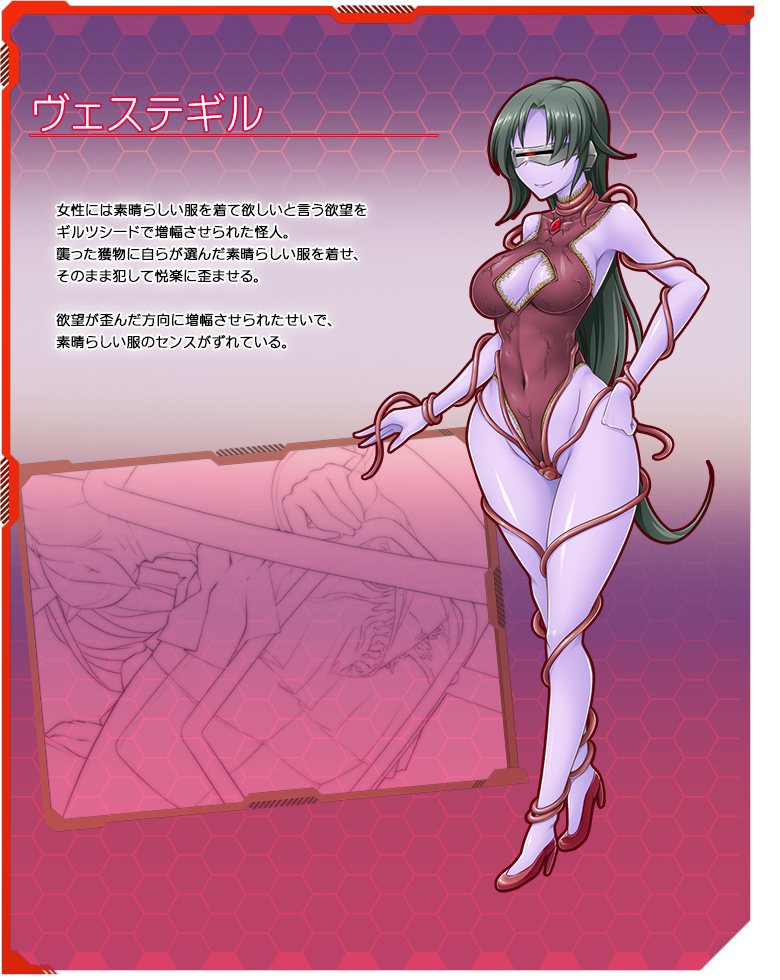 The next one is some kind of "Butterfly" women.
She uses the pollen from her wings to bring out illusions or paralyze her victims.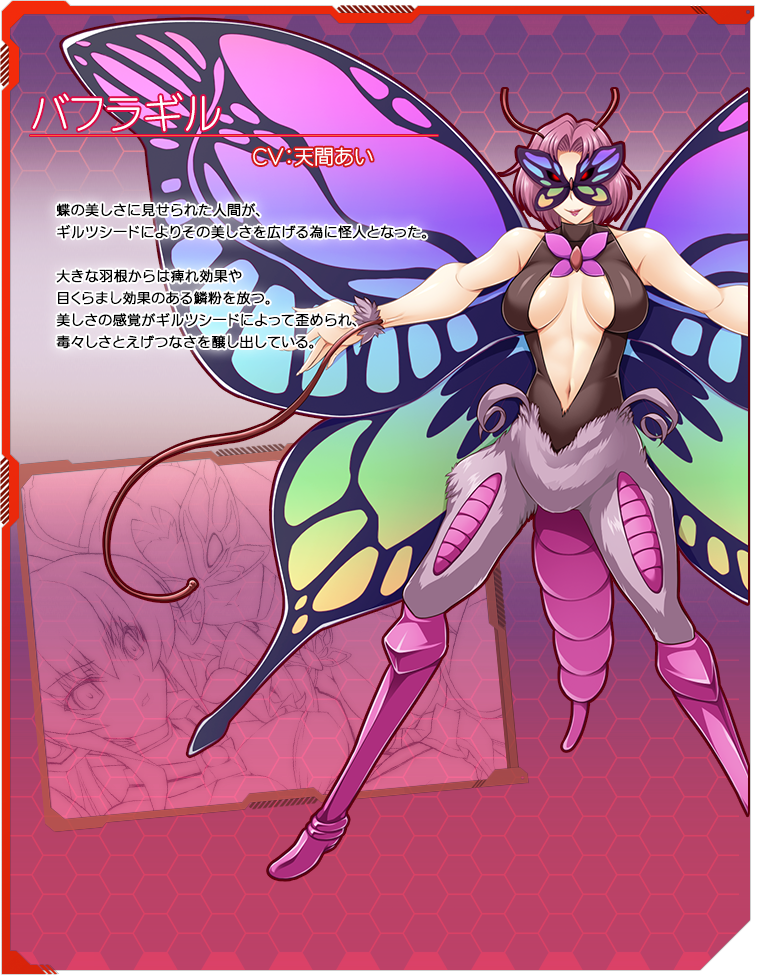 I hope I could at least interest one person in the game/s.
I really liked how the heroine gets corrupted in so many ways.
Every monster had their own theme they followed and according to that
ExS-TIA also got corrupted the same way.
Nice research into these. It's always nice to get a little story behind the pics.
Again, later on in this scene she will use her "magic" penis to
rape her for real. Really difficult to find games where it doesn't
end this way sooner or later...

Welcome to my little corner of hell.
I really like the first DLC monsters design, a living suit, almost looks like she could snap onto the heroine hahaha. The second one sounds promising(until they throw in random obligatory magic penises) and looks great. 3rd one I like too because butterfly women are hot. Very unique design too, using the proboscis as living wrist mounted whips. Hope something good comes out of it.



Posts

: 3922


Join date

: 2012-04-27



rainday wrote:Welcome to my little corner of hell.
Yeah I can understand that. Though I am not as nearly as strongly impacted by that.
Since I am a fan of corruption, so either male or female dominated is fine.
Though having a girl corrupted by a girl is just so much more erotic and
fun that I am always searching for games/animes where this happens.
This is also the reason I came here after all.
If I get new information on the next part in this series, or even played it,
I will post them here.
Sounds good dood, looking forward to it.



Posts

: 3922


Join date

: 2012-04-27



Short question. i bought the game over dlsite. where can i find the dlc, from which you talked?



Posts

: 1


Join date

: 2016-01-17



It's out, and there are a lot of good CG, unfortunately i still have not play and therefore can't say much about what happened, but looking at the CG, it should be interesting...
The best for me is the Butterfly conversion one:
Papilon:
living suit:
FUTA Warning...
yuri:



Posts

: 78


Join date

: 2012-05-02


Age

: 32



Just found the CG set myself.

It looked like the best case for double-converting was the parasite suits. It looked like Pink's own powersuit was turning into the image you showed, like the parasite infects the victim's clothing and transforms it, rather than already being an outfit form that puts itself on others. Anyways, there is a point where Pink apparently infects Blue (though she's in her normal dark-haired appearance). I did like how both Pink and Blue have succubus ends here (Blue actually gets 2 it seems? One with pale skin and purple eyes, one with dark skin and red eyes), but now that I've seen both as such, I kinda wish there was a point in which BOTH took on that form.



Posts

: 2003


Join date

: 2012-04-29


Age

: 31



Played it.
Or rather skipped through it

As in the last game there are also succubi endings, with futanari thingys once more.
Though this time the heroine(Risverne/Ris for short), the red one, abuses the "old" heroine Marina
and vice versa. The ending of Ris should have one scene more I propose :O
It ends with Ris being pleasured by the bad guy and Marina cleaning them both
and then herself wanting to recieve. It ends at that exact moment which is really unfortunate.
She even got implanted with the same "navel bud"/seed that turned her friend into
a succubus so really really sad on my end.
The scenes that have context for this forum are the Suit girl and the butterfly girl.
The butterfly uses her "tentacles"/"worm" like things to rape the heroine and makes fall for the
enemy. To be honest skipped her event for now so more detailed infos later.
The other girl, "suit girl" uses her magic to transform the heroine clothes into "tentacle" clothes
that molest her the whole time. The second time she gets beaten, the "suit girl" seems to do
nothing to her but wish her fun with her new clothes before disappearing.
In that time Ris gets molest the whole time, feeling better and better, till the girl appears once again.
If you lose again, Ris gets molested in her suit once again, while the girl tells her that
the tentacles are "controlled" by the wearer of the clothes themselves, thus the reason for Ris to
be molest is own will. With that her will breaks and she become another "suit girl" that
rapes some girl, no idea who she is but got a name, transforming her too into a suit girl.
The last line she says is something like,
"I want to show this to everyone...
every single woman..." kinda.
The game is once again my complete fetish provider so I will probably have some fun with it.
When I looked into the butterfly/suit girl more I will make another post with pictures.
I have tried playing Ex Tia 2 but the game always faces an error at a certain point in the game preventing me from proceeding... Is there anyone who knows how to resolve this problem?



Posts

: 7


Join date

: 2013-06-30




Similar topics
---
Permissions in this forum:
You
cannot
reply to topics in this forum