Rosario + Vampire is a series that revolves around monster teens in High School, with one human boy somehow getting in as well.  It's typical harem stuff, except with monstergirls, and some of those monstergirls use hypnosis.  It's a relatively popular series, and does have at least 3 monstergirls that hypnotize/brainwash their victim, usually the main character.
Succubus and a Vampire, episode 2
Villainess:  Kurumu Kurono(Succubus)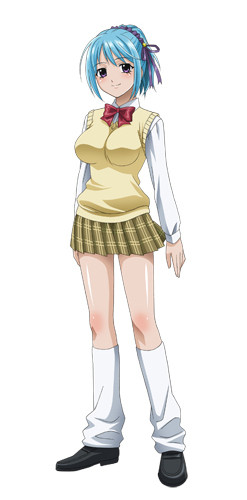 More pics:
Victim: Main character, other boys
Method: Casting Allure/Charm/Love Charm with Eyes, conditioning with Puff-Puffs(aka boinging her boobs over the guy)
Effect: Charmed obedience, though main character is aware of what's going on, he has no will to fight against it while under her spell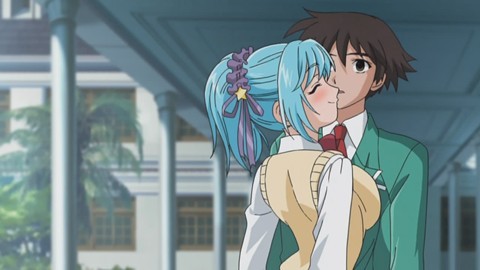 Times:Please keep in
5:05-8:52(meeting, first charm, and NTRing music is very nice and the sound effect of her breasts is beautiful) 9:58-13:00(Moka gets annoyed and then Kurumu reveals her plan to her about charming all the boys with her "booby trap", second hypnosis scene, "defeating" Moka) 14:45-15:15(3rd hypnosis scene)
Though really, the whole episode is fanservice revolving around her, so I recommend watching it all
http://www.funimation.com/shows/rosario-vampire/home
http://www.hulu.com/rosario-vampire
Manga pages:
That's all for now.
I loved this scene.

Too bad she becomes "good" after this and never tries it on the MC again.



Posts

: 223


Join date

: 2012-09-22



There's another minor hypnotism later in the series but it's not as good IMO.
Episode 8
Name: Ririko-sensei
Victim: MC
Method: Whipping, body rubs and um, electricity?
Effect: Obedience towards studying
https://www.youtube.com/watch?v=FVPoRxcC1m8
Time (* are the more important ones):
10:25-11:35 (Context set-up)
13:10-14:00 (First sign of hypnotized eyes, main girl gets NTR'd again lol) *
14:22-16:00 (Music sequence, a couple of minor hypno eyes shots)
16:08-17:03 (The good stuff, she rubs over his body with hers and moans) * /
Alt Link
18:15-18:34 (Another minor "obedience" shot)
07:39-8:00 (Not directly related to the hypno but its a puff-puff)
Yeah, it's kind of spread out so you might as well watch the whole thing, I guess.



Posts

: 223


Join date

: 2012-09-22



Very nice, 20 points. Yeah, I had been planning to do this one next but I've been super busy with gaming and getting through some animes, so thanks a lot for doing for me =) I'll probably add in some more pics later.
Kurumu is my favourite character in Rosario + Vampire, she is started to be evil and become very kind and sweet toward the series, she's just a character that i can't hate in the manga. And i just can't get off the sadness on Kurumu's feeling especially on season II chapter 17 and toward the end.
Mizore also have her moment when she's forcing herself to make out with Tsukune with help from a flower scent to make Tsukune daze off:
http://www.mangareader.net/rosario-vampire-ii/11/10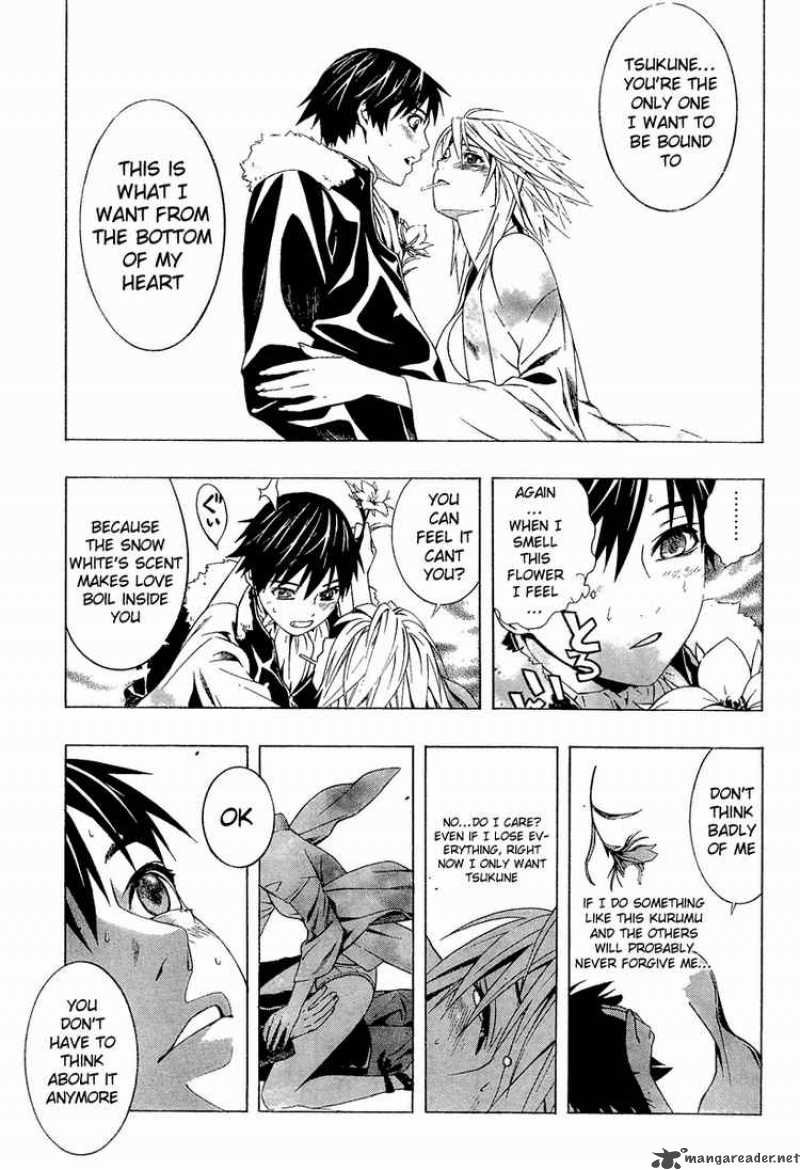 In anime season 1 also have Kurumu's mother and Lilith's mirror that have a little moment.
Very nice, 20 points and +10 for the two sightings mention(you can get +15 for each if you develop them some more with pics).  I do love hypnotic plants~
Ok, and now some glamour shots of Ririko-sensei(manga scenes from chapter 12).
Pics:
I really like the teacher aspect of her, she's kind of like an evil dominatrix version of Parm from UFO Ultramaiden Valkyrie. That hair, those big glasses and that sexy outfit. Not to mention she has one of the weirdest kinks I've seen, getting off on turning her students in obedient slaves that whose brains are only filled with math and her. I find it surprisingly sexy, kind of like turning them into a "robotic" slave who worship their sensei in a different tongue. Also, her tail design is quite interesting, like a beautiful flower, just imaging what it could do to a female body gets me hot. All the little nubs rubbing against their need flesh while the tendrils tying around those erect nubs while they are pulsed with pleasurable shocks overflowing their mind with nothing but math and Ririko-sensei as every memory drips to the ground... Imagine how good those fleshy petals would feel as they sucked on you erogenous zones....
Also there's a line in the manga that isn't mentioned in the anime I think, BUT JUST IMAGINE WHAT WOULD HAPPEN!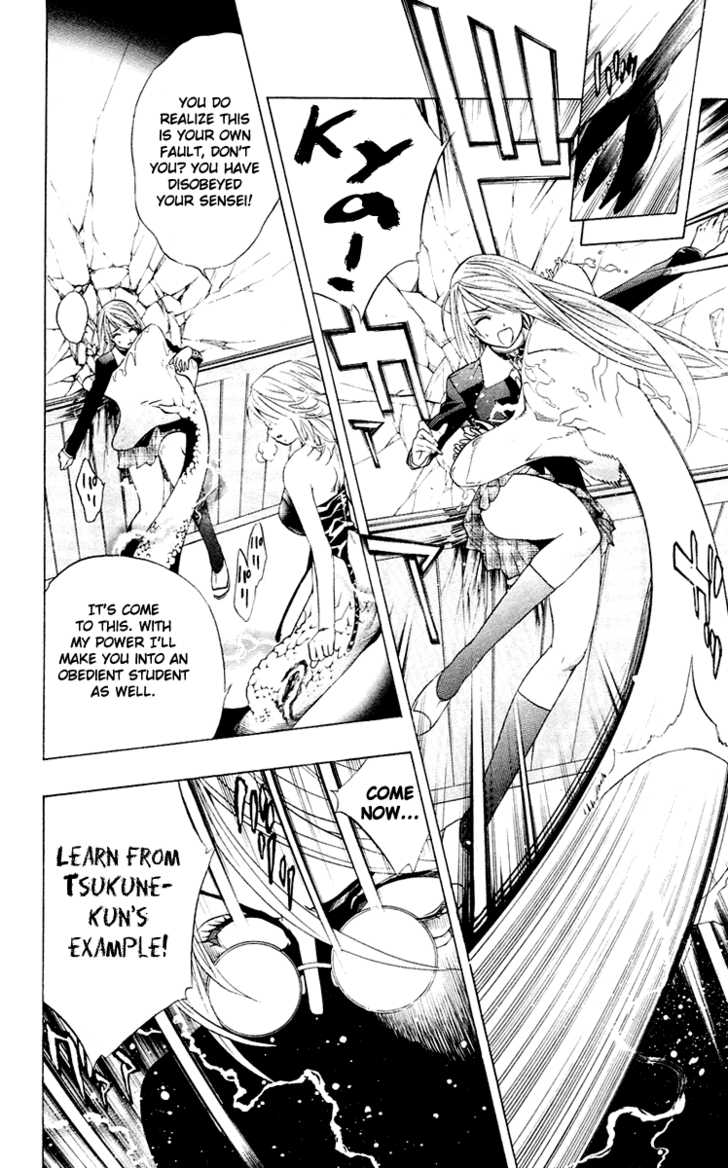 And then maybe Ririko-sensei realizes how much better and prettier obedient girls are... and uses Moka to get to Kurumu...
Rainday wrote:Very nice, 20 points and +10 for the two sightings mention(you can get +15 for each if you develop them some more with pics).  I do love hypnotic plants~

Actually i didn't post it because it might not really suitable with this forum, they both basically don't do anything related to the forum. But if i remember it correctly they might do something in the anime version. Here's some pic with Kurumu's mother and Lilith in the manga.:
Spoiler:
Ageha (Kurumu's mother) only shown her charm in 1 page on manga, though:
Spoiler:
I will try to search in the anime later...
But it might go with this:
Spoiler:
It's on chapter 1 season II where Yukari (comedy reason) manipulated Moka with gas to have a threesome with Moka and Tsukune :p
Yup.I do love Ririko sensei, and yes, i also find her very hot and have a very nice thing to do to her slave. I also would love to see if she succeeded converting Moka and Kurumu, too bad Rosario + Vampire doujinshi is not popular...
I think you might like this: (Heavy spoiler regarding Mizore)
Spoiler:

In season II, the same arc as Mizore trying to win Tsukune with hypnotic flower... Mizore is desperate to win Tsukune because she will stop and can't give birth in a few year, and will be marrying for political matter to Fairy Tale. Fairy Tale (Enemy's organization) take advantage on this and stole Mizore's first kiss, making Mizore so down and feels dirtied causing her to try suicide by jumping off the windows, here the good thing, Kurumu save her mid air and comforted Mizore by FRENCH KISSING Mizore and tells her that a forced kiss doesn't mean anything!

And here's the fun fact, remember in first time you introduced with Kurumu? YES! Her Kiss means an eternal enslavement to the succubus! This proves true in the omake and Mizore become Kurumu's slave (another comedy reason)
Hadn't forgotten about this, just new I wanted to spend a good amount of time with it. Very nice pages, the Ageha one gets you +10(and plus another 10 if you can find the ep and list the time).
Oooh, leg pisses of devotion, my fetish, add in that it was Yukari's doing and that counts as legit F/F material(as Yukari gets Moka) and gets you another 20 points.
I was always hoping this series had a bunch of little things.
Also, HOT DAMN, I knew but the kiss(
http://danbooru.donmai.us/posts?utf8=%E2%9C%93&tags=shirayuki_mizore+yuri
) but I didn't know about the aftereffects, plus 25 points dood!  This is some wonderful stuff!  Even if it is a gag, this is still A+ material(or SS if we are using the Devil May Cry scoring system).  Great work Cio!
LOL... I will try to find the video later, i have collection of Rosario + Vampire, i'm really fond of this series esp the manga. The story and character development really impressive including the authot himself, you can compare his earlier art and season II, really tremendous improvement :p
There was much more yuri fan art regarding Kurumu and Mizore because of this kiss page

This recently came up on Hypnohub, it's not as light and fluffy as the other and a little bloody, but it's interesting all the same, and I so do love the look on Moka's face. Also, sexy nurse. Apparently she's in the anime, but only serves to age up the witch girl.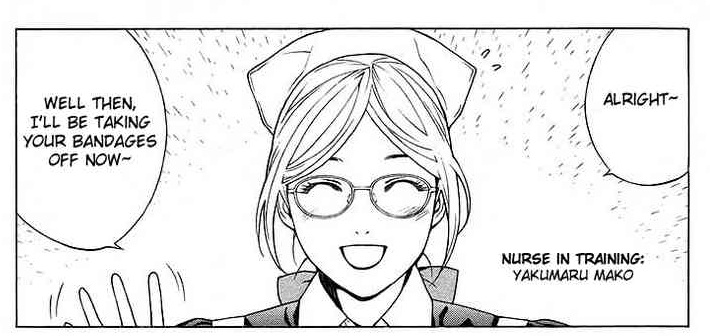 Villainess: Mako Yakumaru
Victim: Moka, a doctor, and numerous patients
Method: Injection
Effect: Puppet
Chapters: 24-25
So, here's a little explanation, Mako infiltrates the hospital as a nurse that Tsukune is staying at after being pounded my Moka's inner self. Mako's objective is to eliminate Tsukune in untraceable way because he stood up to their organization, so she decide that Moka should finish what she started, with a little help from her. Her ability is she can turn her fingers into a extending needle-like injector that she can pump her bodily fluids though. These fluids allow her complete control over her victim. This control is quite strong, turning the victim into a puppet of their will, and once it wears off they are left with no memory of what happened while under Mako's control. It's even strong enough to keep Moka's inner self asleep after the Rosary removal. But yeah, while running through this, the story turned out to be quite touching, if kinda sucky for Kurumi... Anyway, I'm going to post the relevant pieces here, but if you like what you see please support the official release.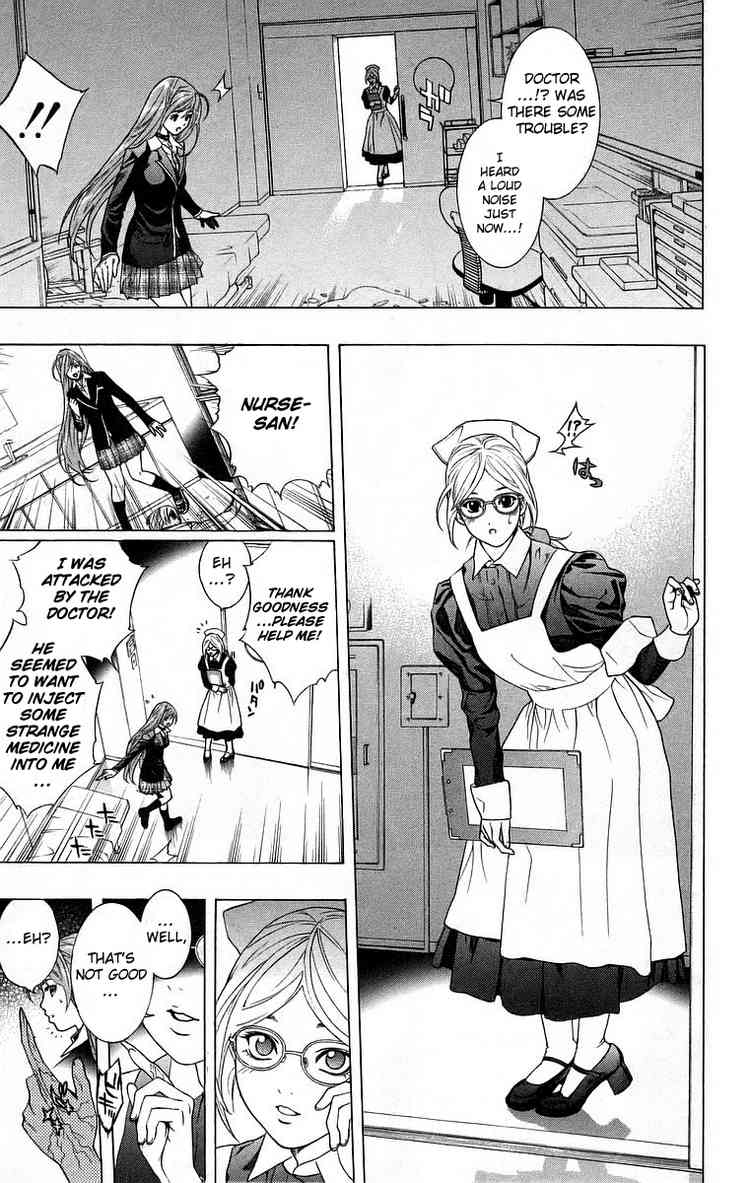 The rest of it, though it gets a little more bloody:
"Good End":

Naturally Moka breaks free with the power of love and delivers a sweet and sexy kick to Mako... Making wish that if Tsukune was removed from the equation and all the girls had crushes on the sides of Moka this would be a pretty awesome series...
Naturally this power with bodily fluids makes me think of a different possible route, Mako wanting to examine Moka, and drugs her, injects her a bit and commands her to eat her out, making the powerful vampire her thrall easily with "medicated daily treatments".

Similar topics
---
Permissions in this forum:
You
cannot
reply to topics in this forum