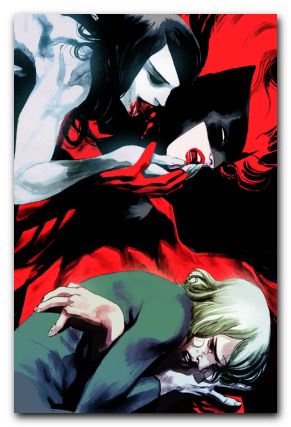 Well this is quite relevant indeed
http://www.themarysue.com/dc-comics-batwoman-rape/
Seems Batwoman had to break up with her fiancée, Captain Maggie Sawyer, then in swoops Noctuna, who hypnotizes her, and bites her, then proceeds to make her forget about the night and dates her(currently for a month with a trip to Paris planned), hypnotizing her now and then to have sex with her and drain her. It's also worth noting that Nocturna is the dominate in their dating life as well =)

Personally, I'm kinda torn about this one, I mean the story is still really hot and SUPER RELEVANT, and it's nice to see our fetish in the main side media, but at the same time DC is filled with a bunch of dick who made a "No marriage" rule for any of their super heroes and heroines and kinda sabotaged Kate and Maggie's relationship, which isn't cool.
That being said the author of this article kinda contradicted himself
" This wasn't a character having a moment of weakness or a lapse in judgment because they felt vulnerable. "
Contradicted by this
" Kate's therapist applauds the decision, though Kate is still, understandably, torn up about it. Then the next night.."
Your not going to get over something like relationship like that in a few hours, she was weak mentally.
But yeah, don't want to go too far down that rabbit hole... Anyway I'll try to keep tabs on this, but if someone else is more of a comic book person they can definitely take the reigns.

_________________
AKA Allan, lurker3009, Swacorpse, current acting moderator of forum/group, feel free to contact me with any questions
Where I find and source pics.
http://swacorpse.deviantart.com/ , http://www.pixiv.net/member.php?id=976522
http://raindayofmay.tumblr.com/ , http://www.hentai-foundry.com/user/Rainday/profile
https://groups.yahoo.com/neo/groups/charmed_by_hypnosis_haven/info



Posts

: 3968


Join date

: 2012-04-27




---
Permissions in this forum:
You
cannot
reply to topics in this forum