So I'm gonna try to keep this brief...  F...
Namco Bandai have started up a site called Shifty Look, where they let people take cracks at webcomics of their old IPs. (see here http://shiftylook.com/ ).
One of those is Wonder Momo( https://youtu.be/tWVPBkIe1Vg ), which I only know about from Queen's Gate: Spiral Chaos(see here for a brief explanation of the character Wonder Momo http://queensblade.wikia.com/wiki/Wonder_Momo ), and Namco X Capcom(aka that awesome game into they use to air on Tech Tv's trailer show https://youtu.be/eanxcTWC75A ).
This comic takes place 20 years after the game, where Momoko, an aspiring idol, receives the power to transform...  You can read the comic for yourself for more info(It's very nicely drawn, but the pacing and script leave something to be desired at moments).
http://shiftylook.com/comics/wondermomo/in-the-spotlight
TO THE POINT.  The transformation device has it's limiter removed, which causes it to feed off Wonder Momo's anger and turns it into a lust for power, thus turning her into Dark Momo.  I'm just gonna upload some highlights, but if your interested in a more coherent version, I'll give out the relevant page numbers.
Before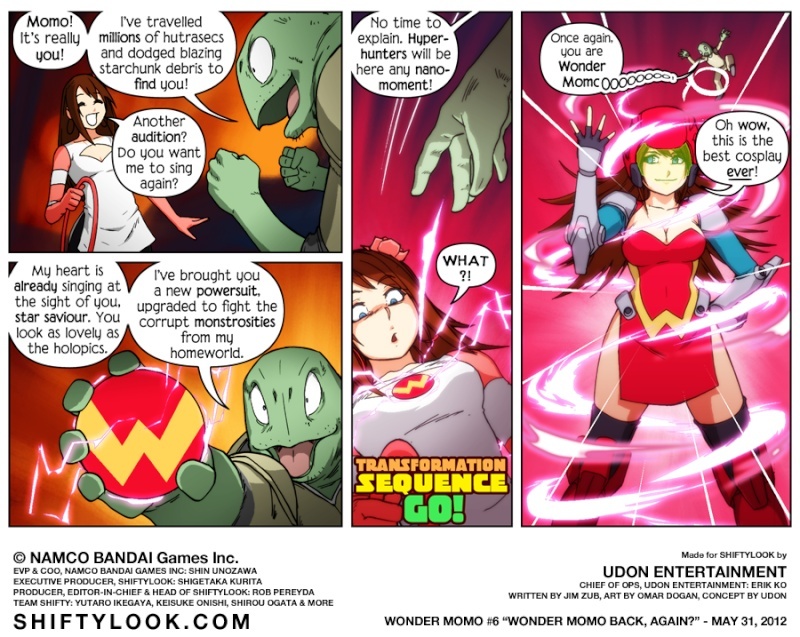 After 1
After 2
The turn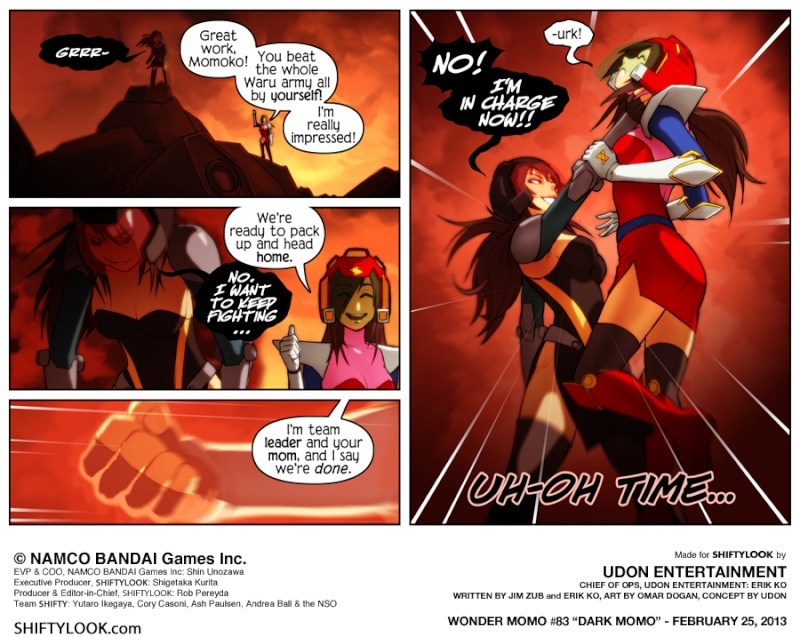 Power absorption
Power corruption
Rival defeated, preparing to absorb
Absorbing 2
Final Form
Now, if you just want some coherence to the evil transformation but nothing else, just start from this page and stop a page after Final Form unless you want her seen turned good again instead of becoming Queen of the Universe.
Well... that was not brief...  But there you go, a good EC nonetheless.  There might be more in the future too, we got a robot doppelganger and a missing good girl rival(Amazona) who may just go dark too.



Posts

: 3968


Join date

: 2012-04-27



Oh man I didn't even think to post that and I been following that comic for a long time now.
by the way you missed this though the fusion didn't last long




Posts

: 75


Join date

: 2012-04-30



I've been meaning to get to that because the little youtube cartoons are some of the best things ever lol.  Seriously, it's like a 6 5 minute episodes that are all quite amusing, a little cliche, but very amusing non-the-less.  It even has Rob Paulsen as Bravoman as well as some other good VAs.

So give it a shot if you like parody humor and the like
http://shiftylook.com/videos/episodes/bravoman



Posts

: 3968


Join date

: 2012-04-27





Similar topics
---
Permissions in this forum:
You
cannot
reply to topics in this forum